Meet your remote Human Resources Team
The principle people dedicated to ensuring the success of your business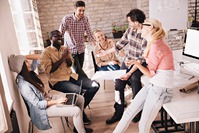 Geri-Ann Austin: Senior Lead Consultant - VP Human Resources
Geri-Ann who holds a Master's degree in Labour and Employment Relations, has approximately ten (10) years experience in the delivery of strategic and operational human resources management with various local and regional organisations.
Cheryl Bobb: Consultant - Human Resources Administration Manager
Cheryl has in excess of twenty (20) years experience with the delivery of human resources administrative management.
Julie Wilson: Consultant - Human Resources Manager Operations
Julie has a Masters degree in Human Resources Management, and has more than five (5) years dealing intimately with human resources operations
Ian Sinckler - Senior Consultant - Training & Development Manager
Ian is completing his Masters degree in Business Administration, and has been involved in organizational and employee development for over fifteen (15) years in Barbados and across the Eastern Caribbean.

Regional Human Resources Support
We also support regional companies with their human resources requirements as we also have in excess of ten (10) years experience working throughout the Caribbean !